Star-Kidz Holiday Q&A 2013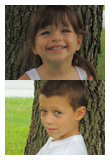 Christian and Abby Eckstein are the siblings of Alex, Ben, and Caleb. Christian has appeared in web videos for Diaper Genie and did a voice over for All My Children while Abby has worked for Coats & Clark and Kahn Lucas! To keep up to date make sure to visit their
Official Website
!
1. How did Christian enjoy doing a voice over for All My Children?
It was nice to have him included in doing something fun with his brothers. He sang Twinkle Twinkle Little Star twice and was all done. He thought the mic hanging over him was interesting haha
2. How did he react watching his episode on TV?
He hasn't seen it yet, we should definitely have a sit down and watch AMC day.
3. What was it like for Christian filming the series of Diaper Genie commercials?
Wow, bringing me back. The kids really were just themselves and going about business as usual. They were intrigued by the cameras and cables and such but otherwise it didn't stop them from playing and running around like kids.
4. Would Christian and Abby ever like to be on a tv show like their brothers were?
Christian has told me lately that he has stage fright. He has to do a "share" day at school and is not a fan of getting up in front of his class to do this. Abby, however, LOVES to have her photo taken and is quite an outgoing little bundle of energy and playfulness. I would love to see Abby do something but being a single child makes it a little harder, plus she's almost 3.
5. What was Abby's first job like?
Abby's first job was a photo shoot for Coats & Clark when she was 9 months old. She was such a good girl but she wanted to move around where they just wanted her to sit there. The problem is she was just starting to sit up on her own so that was a challenge but she did great and her photos came out wonderfully!
6. How did Abby enjoy shooting for Kahn Lucas?
Abby had a great time at the Kahn Lucas shoot. She got to play with all these other little girls and dress up in pretty clothes. What little girl wouldn't love that? At one point closer to her nap time she did have a hard time leaving Michael's side but they were able to work around that.
7. Has Abby ever seen her brothers on TV?
Abby hasn't seen her brothers on TV. We will be planning time to show the boys some of what they did on AMC and will let Abby watch as well. I can't wait to see her reaction.
8. How did Christian enjoy attending Alicia's book signing?
Christian was always a big fan of Alicia and of course the crowd of fans were thrilled to see the "Spike's" and their brother. I'm sure it helped that we were pushing them around in their Quad-Stroller which in itself is a sight to see. The kids all got to pick out a book of their own while we were there too! (Kids book that is...)
We'd like to thank Christian, Abby, and their family for participating in this year's Holiday Q&A event!